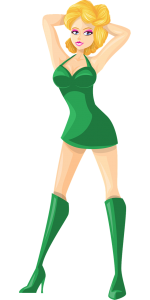 Dank Green Dress Run
April 20th, 2018 – 4:20pm.
Hares: Token Ese & Cocknoculars
Why not take advantage of the date and give you a reason to pack a second dress!? This hash will kick off the Red Dress weekend with a short (0-4.20 mile trail) A-A Dank Green Dress Run celebrating the holiday!
Beer Near will feature the dankest seasonal craft beers, such as Oscar Blues Pinner, Lagunitas The Waldo's Special Ale, Lagunitas CENSORED, Sweet Water 420 Pale Ale, Humboldt Brown, or Founders ReDANKulous Imperial Red. Actual beers will vary based on availability of kegs distributed this year! We'll bring some PBR for those not into the hops!
When: Hares away at 4:20.
Where: At the RDR Hotel.
REGISTER HERE!!!: $8 – includes craft beer and the Green Dress Run Patch! Any profits will be donated to a Medical Marijuana Non-profit. REGISTER HERE!!!
Public Service Announcement: While medical marijuana is legal to those with prescriptions in Arizona, recreational use is still prohibited in Arizona. Phoenix H3 is not supplying or condoning the use of marijuana, and advises you be safe and cognizant of locals laws. We cannot control and micromanage every aspect of your weekend, so use common sense and have fun.
***THE INFORMATION BELOW PERTAINS TO CHECK IN***
Attention all Wankers, Harriett's, Half-Minds, Race-ists, Party Animals, and anyone else cumming to Dank Green Dress!!!
The below document is REQUIRED at check-in for any of the 2 days we will be available.
ID
All persons must be present at Check In, you may not check in for another person…
We are checking IDs for confirmation that the participant is 21+. Arizona State Law requires you be 21 years of age or older to consume alcohol in any forms. For more information please see
HERE
for the Title 4 Law Book, and
HERE
for AZ Liquor FAQs. Please understand that we just want everyone to have a wonderful experience, IF we get shut down everyone will have a bad time.
There is a possibility you may need a copy of your ticket (electronic or otherwise) and/or Transfer Request Information if there is an issue. This is not a requirement, its just a nice to have.
***If you are registered for the Dank Green Dress AND Red Dress, you will be checked in for both at Red Dress Check-In****
_________________________________________________________________________
4/19/2018
100th Fuckin Throwdown Thursday Pre – Check In!
Who:
Any RDR or Green Dress Registered Hashers
What:
You will receive your patch and wrist band
Where:
Vine Tavern & Eatery 801 E. Apache Blvd Tempe AZ, 85281
When:
6PM – 9PM (ISH)
4/20/2018
Dank Green Dress Run Check In
Who:
Any Dank Green Dress Run Registered Hashers
What:
You will receive your patch and wrist band
Where:
Wyndham Garden Phoenix Midtown 3600 N. 2nd Ave Phoenix AZ, 85013
When:
3:20PM – Hares Away
annnd now for the WHY…
Because if you are not registered, checked in, and wrist banded you can't come party, and we want everyone to cum!
If you have any questions or concerns please reach out to mismanagement at RDR@PhoenixHHH.org or visit us at
https://phoenixhhh.entryhost.com/RDR/check-in/